OUR MISSION
Climate change, water pollution, overfishing, but also the chemical filters contained in sunscreens cause coral bleaching and alteration of marine biodiversity. Today, thanks to information, we can become aware of the impact that our actions have on the environment and direct our habits towards eco-sustainable choices.
In support of our environmental cause, we are happy to announce that we are
Plastic Free Affiliates
, which means that for every tube sold we are engaged in supporting the projects carried by the association, such as plastic collection from the beaches and rescue of Mediterranean sea turtles.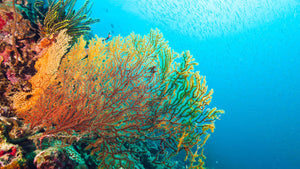 WHY YOU SHOULD CHOOSE ACQUALAÏ
Acqualaï has chosen to be a clean brand, i.e. not to include these harmful ingredients in its formulations. The raw materials come only from Italian suppliers and are 100% biodegradable .
Most of the sunscreens on the market contain ingredients that are harmful to both our skin and the marine environment . In fact, some recent studies have shown that chemical sunscreens such as Oxybenzone, Octinoxate and Octocrylene alter human and marine hormone balance.